Local Programming
May 20, 2022Morning Conversation
Morning Conversation: Rusty Black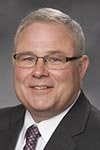 On this week's Morning Conversation, we talk with Missouri State Rep. Rusty Black of Chillicothe about the 2022 Missouri Legislative session. 
Black talks about some of the bills he passed as we as his thoughts on what lawmakers came up with to fix the teacher salary gap in the Show-Me state.

More information about Rep. Black can be found here.