Local Sports
Dec. 1, 2018Game | Basketball
Northwest 100, Midland 66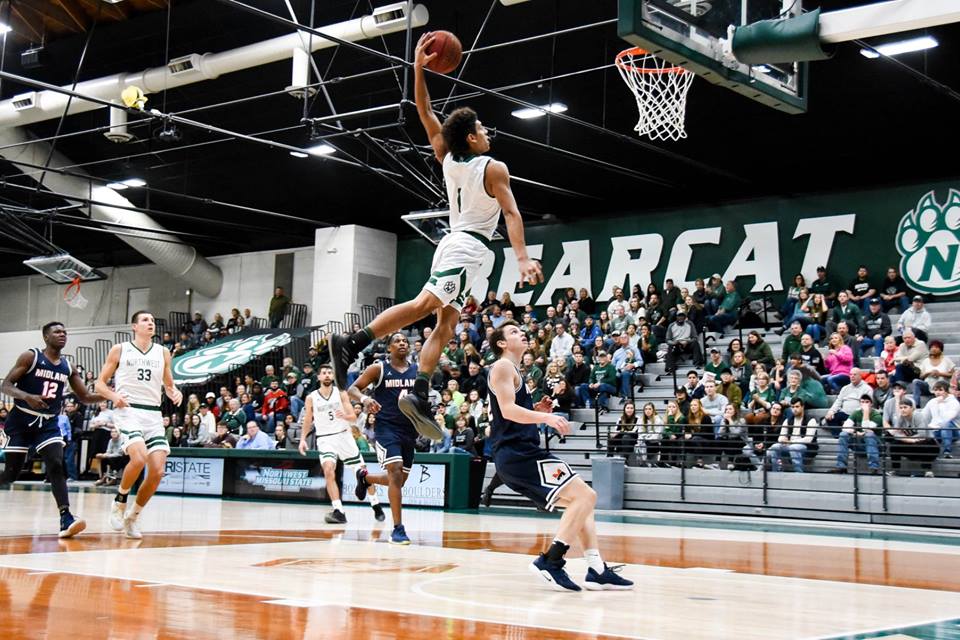 (Photo courtesy Northwest Athletics)
Freshman guard Trevor Hudgins posted a double-double in just 21 minutes of action Saturday afternoon as Northwest rolled to a 100-66 win over Midland University.
The Bearcats (8-0) earned a decisive victory in their final non-conference tune-up game before hosting Lincoln University Thursday in the MIAA opener.
The Warriors scored the first bucket of the game on their first possession to take a 2-0 lead, but it was short-lived. Kirk Finley tied the game on a layup 17 seconds later, sparking a 12-0 Northwest run.
The Bearcats kept their foot on the accelerator throughout the first half on the way to a 25-point lead at the break.
Hudgins found Diego Bernard for an easy bucket with 16:36 remaining to put the Bearcats up 64-29, and checked out of the game for the final time just over a minute later after quietly dishing 10 assists. It was the second time this season that Hudgins has finished with double-digit assists.
The Manhattan, KS native also scored 19 points on an efficient 8-12 shooting.
Ryan Hawkins also scored 19 points while pulling down eight rebounds. He continues to pace the MIAA with 10.6 rebounds per game.
Joey Witthus also filled it up Saturday night with 18 points on 6-9 shooting from three-point range. Witthus is eighth in NCAA Division II Basketball shooting 55.1-percent from beyond the arc.
Northwest opens conference play Thursday, December 6 against Lincoln. The men's basketball game will be at 7:30pm in Bearcat Arena after the women's basketball game.