Local Sports
Nov. 3, 2018Game | Football
Northwest 16, Fort Hays 17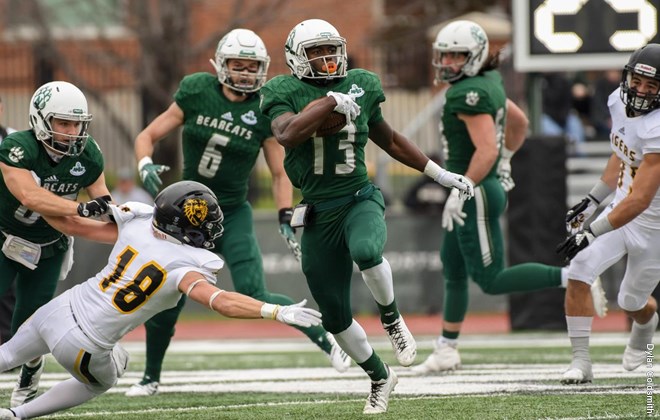 (Photo courtesy Northwest Athletics)
A quiet offensive day for Northwest Missouri State led to just the second loss of the season for the Bearcats.
Fort Hays State knocked off No. 10 Northwest 17-16 Saturday afternoon at Bearcat Stadium.
The Tigers (8-2) jumped in front 14-0 in the first quarter, but the Bearcats (8-2) battled back.
Jack Richards intercepted a pass to set up a Parker Sampson field goal, and Shawn Bane returned a punt 56 yards for a score with 1:52 remaining in the first half.
Northwest marched 78 yards in six plays on the first drive of the third quarter, and capped it with a 19-yard touchdown pass from Braden Wright to Alec Tatum. The extra point was blocked, so the lead was just two points for the 'Cats.
Fort Hays responded with a 49-yard drive ending in a 42-yard field goal to take the lead one final time.
Wright threw for 109 yards, a touchdown and an interception, and also rushed for 21 yards.
Northwest finishes the regular season next Saturday, November 10 at the University of Central Missouri. Bearcat Gameday presented by Impact Interiors begins at noon, followed by kickoff at 1pm on KXCV 90.5 and KRNW 88.9.