Bearcat Radio Network
Nov. 19, 2018Game | Basketball
Northwest 85, Illinois-Springfield 66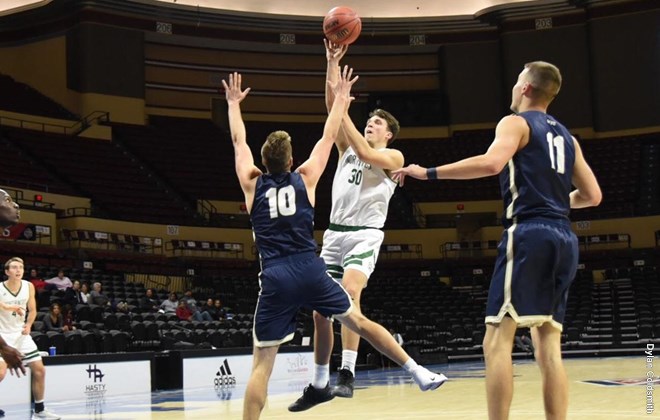 (Photo courtesy Northwest Athletics)
Northwest Missouri State men's basketball kept its perfect start to the season rolling with an 85-66 win over Illinois-Springfield in the MIAA Showcase from Municipal Auditorium.
The Prairie Stars (2-3) jumped out to a 19-10 lead seven minutes into the game, but the Bearcats (6-0) outscored them 29-10 the rest of the half to take a 10-point lead into the break.
The lead grew to as many as 27 points in the second half as Northwest cruised to victory.
Senior Joey Witthus set a new career-high in scoring for the second game in a row with 33 points, including 7-12 from beyond the arc. Witthus also pulled down four rebounds and dished five assists.
Ryan Hawkins finished with 16 points and 18 rebounds, while Trevor Hudgins added 14 points. Ryan Welty and Diego Bernard rounded out the scoring with 11 points apiece.
Northwest is back home Friday to face Tabor at 2pm. Pregame on KXCV 90.5 and KRNW 88.9 will start at 1:40pm.