Local Sports
Sept. 6, 2019Game | Football
Northwest 45, Missouri Western 35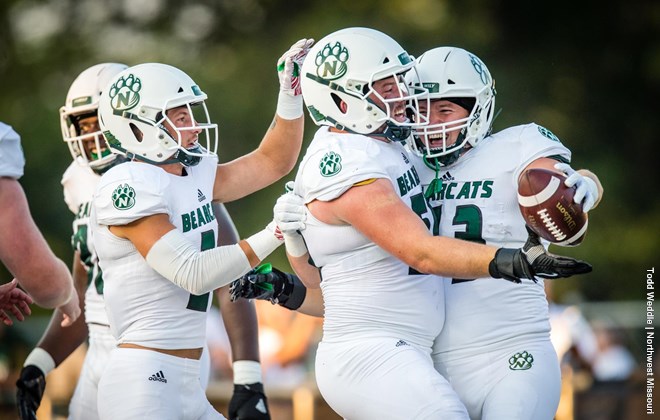 (Photo courtesy of Bearcat Athletics)
 Northwest overcame a fourth quarter deficit on the way to a 45-35 win in a back-and-forth game with Missouri Western on the opening night of the MIAA football season.
 The Bearcats threatened to pull away early jumping ahead 28-7 in the second quarter thanks to a pair of defensive touchdowns.
 Spencer Phillips recovered a botched snap on Missouri Western's first drive of the game and pitched it to his brother Sam Phillips who returned it 57 yards for the opening score of the game.
 Later, Sam Phillips intercepted a Missouri Western pass at the 29-yard line and returned it for his second touchdown of the night.
 Despite trailing 28-7, the Griffons battled back. From late in the second quarter through early in the fourth, Missouri Western outscored Northwest 28-3 to take a 35-31 lead.
 The Bearcats answered with an eight-play, 89-yard drive capped by a 10-yard run into the end zone by quarterback Braden Wright with 8:50 remaining in the game.
 Later in the final period, Wright also hit Kyle Raunig for a score to put the game out of reach.
 Northwest looks to make it two in a row next Saturday, September 14 at home against Washburn (1-0).