Bearcat Radio Network
Feb. 3, 2021Feature | Football
National Signing Day Broadcast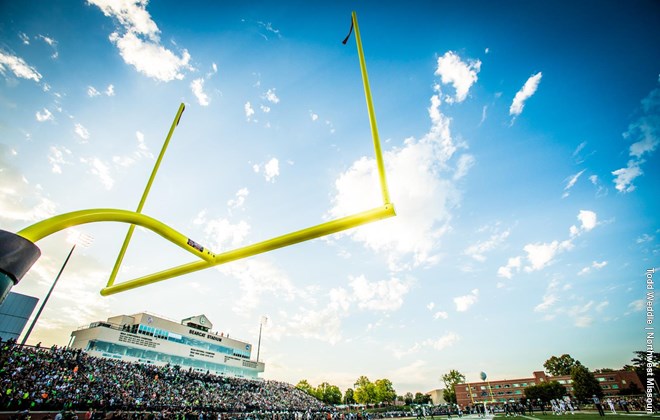 (File photo courtesy Todd Weddle, Northwest Athletics)
Northwest Missouri State football brought in 29 new athletes, 26 from high school and three transfers, for its 2021 signing class.
Of the new players, Missouri and Kansas lead the way with the most recruits at nine apiece. The Bearcats also brought in athletes from Iowa, Nebraska, Illinois and Texas.
Head coach Rich Wright discussed the full signing class on KXCV 90.5, KRNW 88.9 Wednesday afternoon. Full audio from the show is above.
HIGH SCHOOL SIGNEES
Jackson Alexander, WR – Gretna, Nebraska (Gretna HS)
Cooper Berry, DL – Warrensburg, Missouri (Warrensburg HS)
Parker Bowen, LB – Raymore, Missouri (Raymore Peculiar HS)
Andrew Bradley, CB – Overland Park, Kansas (Blue Valley West HS)
Trey Butcher, OL – Platte City, Missouri (Platte County HS)
Marc Davila Jr., DB – Gurnee, Illinois (Warren Township HS)
Mayes Doggan, DB – Bloomington, Illinois (Normal Community HS)
Carter Edwards, LB – St. Louis, Missouri (De Smet Jesuit HS)
Benjamin Einess, DL – Peculiar, Missouri (Raymore-Peculiar HS)
Shane Fredrickson, S – Lee's Summit, Missouri (Lee's Summit West HS)
Gannon Gragert, TE – Elkhorn, Nebraska (Elkhorn HS)
Marc Gustafson, DL – Marvyille, Missouri (Maryville HS)
James Jones Jr., WR – Wharton, Texas (Wharton HS)
Keagan Kooi, S – Kansas City, Missouri (Staley HS)
Cole Lammel, K/P – Omaha, Nebraska (Millard South HS)
Zaden Marroquin, DB – Olathe, Kansas (Olathe East HS)
Tre Melby, DE – Logan, Iowa (Logan-Magnolia HS)
Ewan Mills, OL – Topeka, Kansas (Seaman HS)
Clayton Power – DT – Stilwell, Kansas (Blue Valley HS)
Cole Rues – OL – Overland Park, Kansas (Shawnee Mission South HS)
Chris Ruhnke – QB – Platte City, Missouri (Platte County HS)
Nile Schuett – DL – Tipton, Iowa (Tipton HS)
Wes Willis – DE – Wellsburg, Iowa (Grundy Center HS)
Cameron Wise – TE – Pomona, Kansas (West Franklin HS)
Luke Zegunis, OL – Olathe, Kansas (Olathe West HS)
Tank Young, RB – Overland Park, Kansas (St. Thomas Aquinas HS)
 
TRANSFERS
Baily Darnell, DB – Auburn, Nebraska (Auburn HS/South Dakota State)
Bryce Krone, LB – Bonner Springs, Kansas (Bonner Springs HS/Missouri Western)
Tyson Strohbeen, OL – Sioux City, Iowa (Bishop Heelan HS/South Dakota State)