Local Sports
Oct. 9, 2021Game | Football
Northwest 20, Pittsburg State 19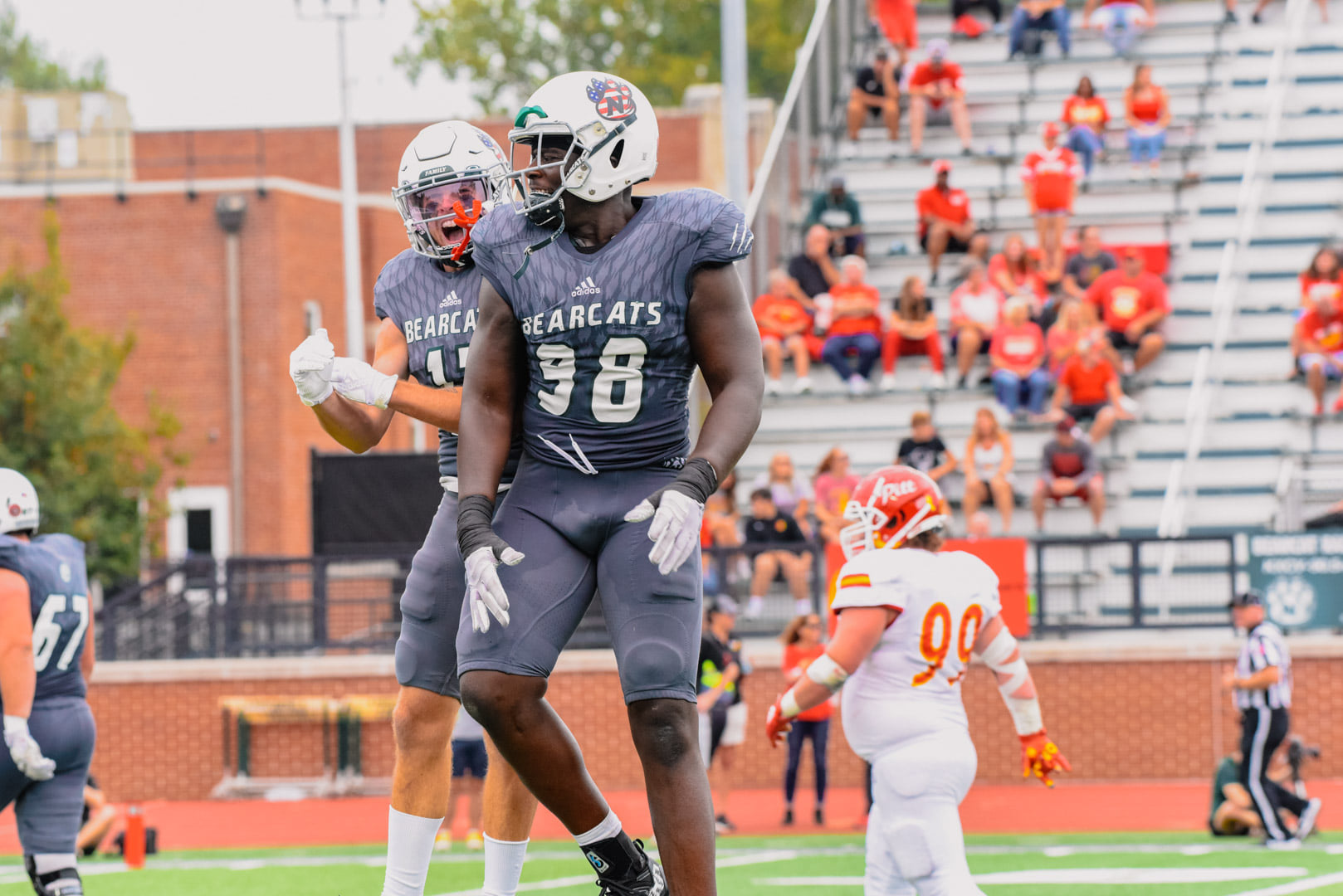 (Photo courtesy Northwest Athletics)
No. 2 Northwest Missouri State overcame a 16-point second half deficit to take down Pittsburg State 20-19 Saturday afternoon.
The Bearcats (5-0) scored the go-ahead touchdown with 5:15 remaining when Mike Hohensee dumped a pass off to Kaden Davis in the flats, and Davis lunged into the end zone.
The Gorillas (4-2) drove to the Northwest 27 and attempted a 44-yard field goal with 57 seconds on the clock, but it went wide left ending any hopes of a Pitt upset.
The first matchup between the two teams in Maryville since 2016 started out in favor of Pittsburg State.
Mak Sexton hit Kaizer Newell for a 20-yard touchdown pass early in the first quarter. Cross Holmes was good on field goals from 27 and 53 yards out in the second quarter to give Pitt a 13-0 lead at halftime.
Another make by Holmes with 10:39 left in the third opened a 16-0 advantage for the Gorillas.
That's when the Bearcat offense came to life.
Northwest marched 73 yards in five plays, including pass plays of 17 and 19 yards to Alec Tatum, and finished it off with a 33-yard touchdown strike from Hohensee to Davis.
Holmes hit another field goal by Holmes to extend the lead to double-digits again at 19-7.
Hohensee led a second consecutive scoring drive when Northwest got the ball back. This time he hit Jadon Brady, a freshman running back, up the seam for his first career touchdown bringing the Bearcats back within five points of the Gorillas.
Pittsburg State got in range for a 38-yard field goal from Holmes, but his first miss of the day gave the football to Northwest at their own 21 with 9:45 left in regulation.
The Bearcats erased nearly five minutes off the clock and the five-point deficit.
Northwest rushed the football seven times on the 10-play drive that ended with Hohensee finding Davis for their second touchdown connection of the day and the game-winning score.
Hohensee finished the game with 199 yards and three touchdowns on 17-23 passing.
Al McKeller, the MIAA's leading rusher (133.8 yards per game), ran for 93 yards on 16 carries.
Davis caught two passes, both for scores, that went for 41 yards.
Northwest Missouri State is on the road next week for a matchup with Washburn in Topeka. Game time is 1pm. Pregame on KXCV 90.5 and KRNW 88.9 begins at noon.