Local Sports
March 5, 2023Game | NW Men's Basketball
Northwest 61, Central Oklahoma 53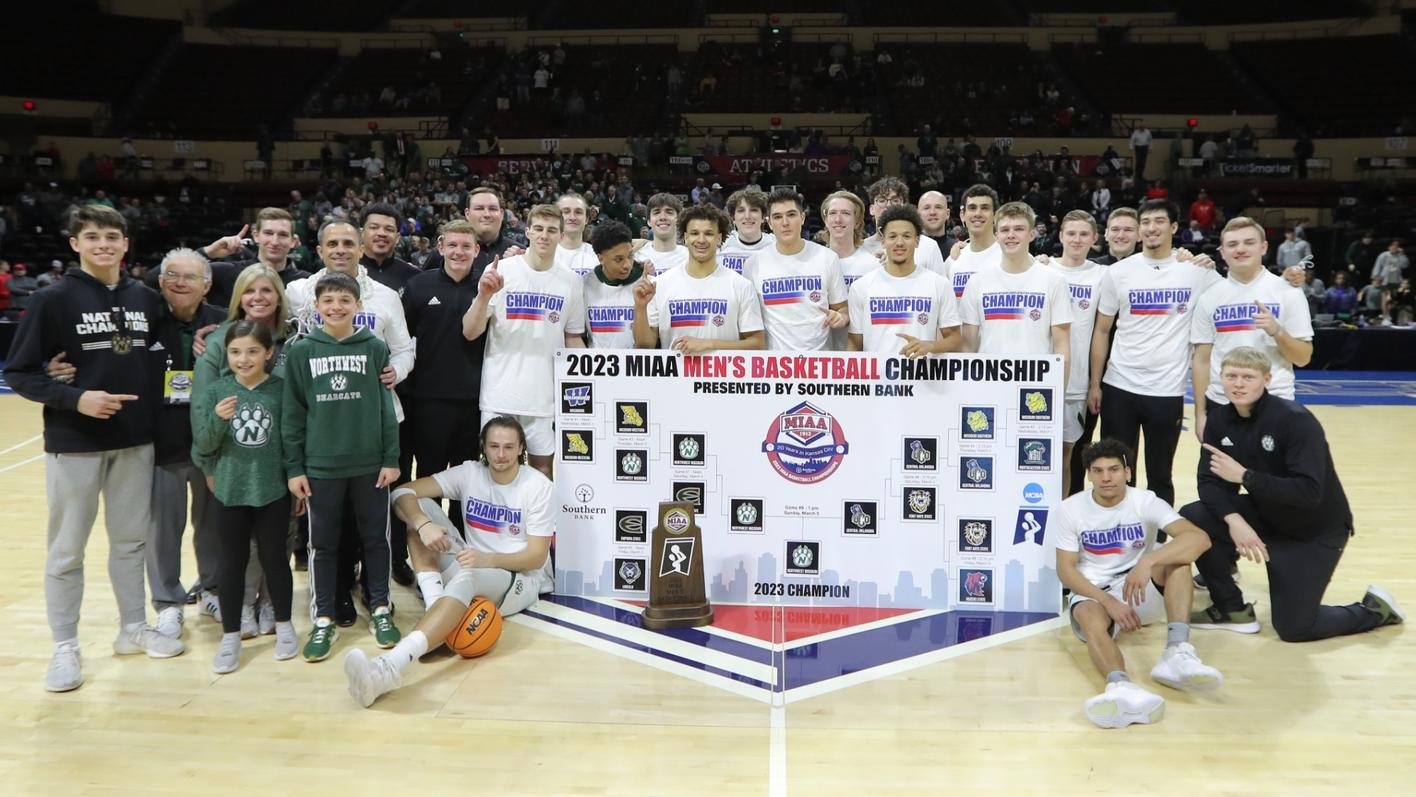 (Photo courtesy of Bearcat Athletics)
The top-seeded and No. 2-ranked Northwest Missouri State University men's basketball team used an 8-0 run in the final two minutes to secure a 61-53 victory over the Central Oklahoma Bronchos in the title game of the MIAA Tournament held at Municipal Auditorium.
Freshman Bennett Stirz led Northwest in scoring with 20 points, five rebounds, three assists and two steals. Wes Dreamer had 14 points and 6 rebounds, and Diego Bernard posted 13 points, four rebounds, three assists and two steals. Bernard was named the tournament's most outstanding player and scored six points late in the game to help seal the win for Northwest.
Wes Dreamer and Bennett Stirtz were also named to the All-Tournament team. The victory gave Northwest their 11th MIAA tournament title in its 18th trip to the finals.
The Central Region championship goes through Maryville this year as the Regional Tournament was awarded to Northwest Missouri State. After the 30 and 2, Bearcats were named the number one seed of the tournament.
Northwest will face number eight-seed Southern Arkansas in the opening round. Other match up's have number two seed Northern State taking on seven-seed Emporia State. Three-seed Central Oklahoma faces six seed Minnesota-Duluth and four-seed Minnesota State University-Moorhead battles five-seed Southern Nazarene. The tournament gets underway Saturday at Bearcat Arena and runs through next Tuesday evening.
It's the fifth time Northwest has served as the NCAA Central Region hosts and the 23rd time the men's team has appeared in the NCAA tournament.
The Bearcats play at 6:00pm on Saturday, March 11th at Bearcat Arena.  KXCV-KRNW will broadcast the game starting at 5:30 with the pregame show.